Now in its 26th year, National Poetry Day is held every autumn, a celebration of poetry, words and ideas. This year the theme is Vision! and there are events planned throughout October, launched by a nationwide 24-hour "share-a-poem" festival on October 1st.
Poetry experienced a massive surge in popularity over lockdown as online celebrity poetry readings and daily poetry slots on the radio encouraged us all to have a go, and express ourselves through poetry. National Poetry Day invitied us to share our thoughts and experiences of lockdown through haiku in the #haiflu project whilst the number of Instagram posts tagging #poetry grew from 40 million to 48 million between April and September! Young children have always enjoyed rhymes and poems but through verse novels, hip hop and spoken word events, poetry is hugely popular within a wide YA audience. Poetry is cool. We saw this in the huge response from young poets to our LoveReading4Kids Poetry Prize, with some extraordinary, moving, funny and brilliant entries. You can find the shortlist here - and hurry! there is still time to vote for your favourite in the People's Choice category. The winner will be announced on National Poetry Day.
Susannah Herbert, executive director of the Forward Arts Foundation, which has organised National Poetry Day each year since 1994, said: "This year will go down as the year of bubbles and screens, as lockdown has confined us to our homes and vastly increased the importance of our neighbourhoods, while highlighting the ways we reach out to others. Poems give release and a relief from loneliness; the amazing #haiflu project delivered by poet Liv Torc at the height of lockdown in June encouraged hundreds of libraries and schools to note and share their experiences in just three lines of poetry. That explosion of citizen creativity continues to gather force, turning poetry moments into poetry momentum."
In recognition of this fantastic initiative we have selected a few of our favourite recently published poetry books to help inspire the poet in you and your children.
Beautifully presented, this is a fabulous anthology of poems chosen by Fiona Waters and greatly enhanced by wonderful illustrations by Britta Teckentrup. This treasury of 366 animal poems, one for every day of the year, are a wonderful mix of well known classics from poets including Christina Rossetti, Emily Dickinson and William Blake - others are contemporary and refreshingly new.
Lizard
A lean wizard -
watch me slither
up and down
the breadfruit tree
sometimes pausing a while
for a dither in the sunshine
3+ - adult
The B on Your Thumb by Colette Hiller is a book of 60 clever and orginal rhymes to boost early reading and understanding of word sounds and simple grammar. Using rhythm and wordplay, they promote phonics awareness, thinking skills and literacy. But most of all, this book delights young readers with the fun and silliness of the English language.
Some letters sound as they are meant to.
Other letters change
They sometimes make surprising noises.
English can be strange!
3+ 5+ 7+
Told in gentle rhyming verse by Charlotte Guillain, this beautiful non-fiction picture book follows the story of an oak tree on a hilltop as it witnesses life changing around it over the course of hundreds of years.
I first was an acorn, so tiny and round,
I fell from a branch and sank into the ground.
Then as I grew up, I turned into a tree… over hundreds of years!
So, what did I see?"
5+ 7+
Loads of fun, this is a light-hearted and crackling collection of poems which touches on magic of all kinds. Chosen by Paul Cookson, poets include William Shakespeare, Lewis Carroll, Benjamin Zephaniah and Joshua Seigal.
When midnight mists are creeping,
And all the land is sleeping,
Around me tread the mighty dead,
And slowly pass away.
Lo, warriors, saints, and sages,
From out the vanished ages,
With solemn pace and reverend face
Appear and pass away.
7+ 9+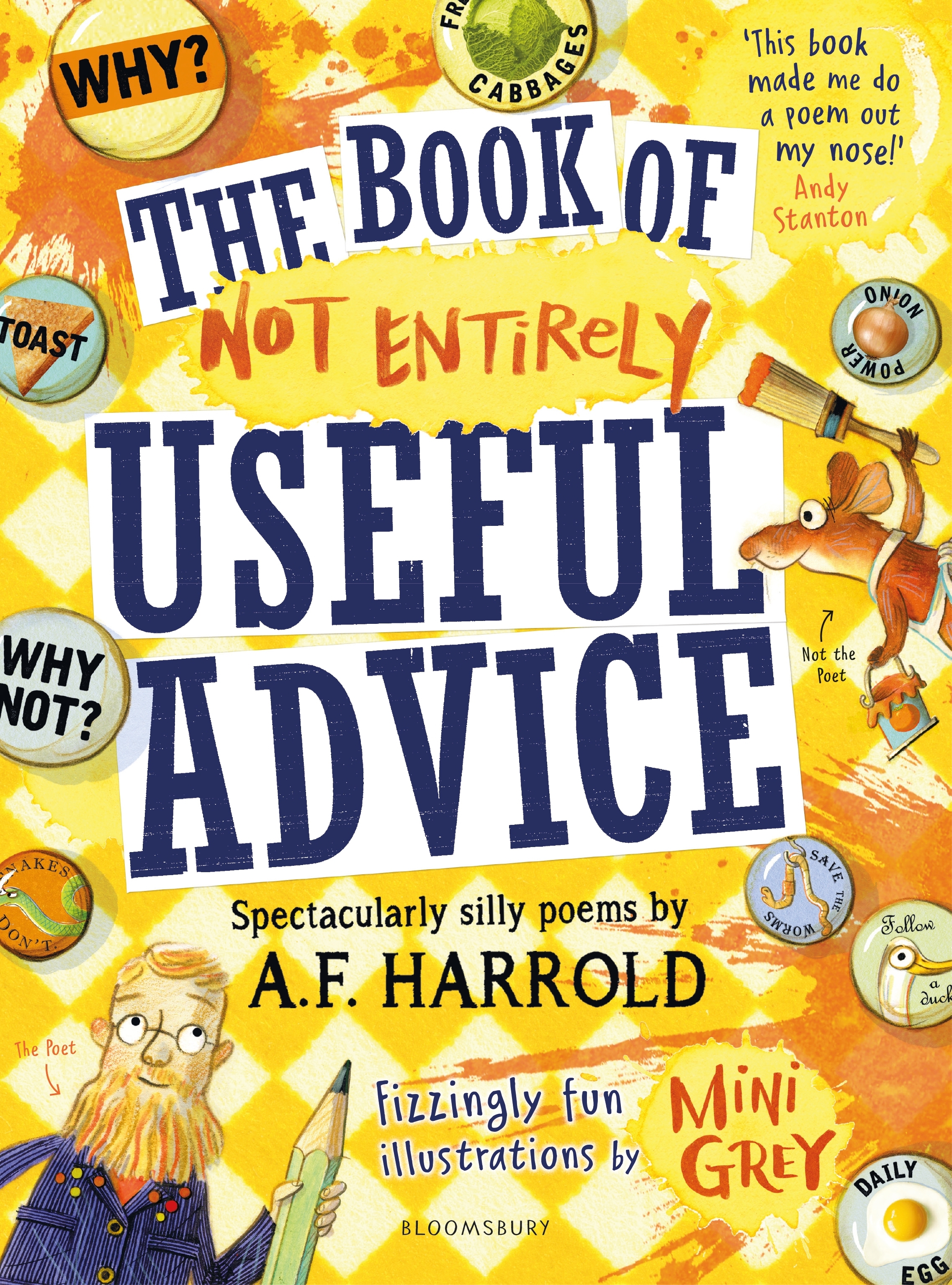 The Book of Not Entirely Useful Advice
A riotous celebration of words and a modern take on cautionary tales - featuring advice from A.F. Harrold on parrots, gravy, mathematics, castles (bouncy), spiders, vegetables (various), breakfast, cakes, and removing ducks from soup. Most of the poems are wonderfully comic, but there's space for quiet, thoughtful verse too. It's a book to fire the imagination and to make you see things in a whole new way, like a poet in fact.
Watch out for bears in your cornflakes.
Bears are dangerous.
Bears have big claws.
Bears are always hungry.
At breakfast time, doubly so.
9+ 11+
Co-written by award-winning novelist Ibi Zoboi and Dr Yusef Salaam, a prison reform activist, poet and one of the Exonerated Five, Punching the Air is a timely, heartachingly powerful free verse novel.
Through its shatteringly succinct lyricism, Amal's story is a mighty call to action that rouses readers to question the deep-rooted and damaging consequences of racially biased societal systems, while radiating the light and hope of art and Amal himself.
I
have a
crayon and paper
I didn't know that
I could hold this little
bit of freedom in my hands
YA
Founded in 1994 by William Sieghart, using using live events, classroom resources and web-based activities, National Poetry Day has engaged millions of people with poetry. This year the theme,'Vision!', invites us to See It Like a Poet and to share and celebrate poetry.
Everyone is invited to join in, whether by organising events, displays, competitions or by simply posting favourite lines of poetry on social media using #ShareAPoem.
There is also a schools-focused challenge, #MyNPDPoem and you can find videos and resources for lesson plans and ideas, to download nationalpoetryday.co.uk/education/free-education-resource-downloads.
Find out more about National Poetry Day and the events planned at nationalpoetryday.co.uk
Follow@PoetryDayUK
And you can find further recommended poetry books in our Poetry section.