"The prevalence of dyslexia is significant and we think it's great that LoveReading4Kids are acknowledging this on their site." Dyslexia Action
The term dyslexia literally means 'difficulty with words'. In reality, it covers a whole spectrum of problems, not just with reading, writing and spelling, but also with comprehension, memory and organisational skills. With some 10% of people in the UK with dyslexia, here at LoveReading4Kids we know how important it is to provide some guidance on dyslexia-friendly books for children and teenagers, with advice from the leading publisher Barrington Stoke of dyslexia-friendly books and the charity Dyslexia Action.
Dyslexic individuals find reading a challenge and they need alternative teaching methods and materials if they are to crack the code. It may take longer than their classmates but most of them get there in the end. However they are often not ready to tackle the longer, more demanding books their contemporaries are reading and there is a real danger that some children may be put off reading for life. Fortunately specialist Barrington Stoke and some mainstream publishers such as Bloomsbury, have recognised the importance of producing books with inspiring content, real characters and a gripping plots but with shorter chapters and a more readable layout and design.
As many dyslexic children find that normal black text printed on white paper can hurt sensitive eyes, these specialist books are published in an off-white, cream paper that is more soothing to read. In addition the text is carefully spaced with a clear, open font and with a generous use of illustration. Short chapters which give natural 'rest' breaks are also important in giving young readers, parents and carers the confidence to open a book.
Traditionally it has been thought that boys were three times more likely to be dyslexic than girls but evidence now shows that this is not the case. Both sexes are affected but studies by Dyslexia Action show that three times as many boys as girls received additional teaching because of their dyslexia. One theory is that boys are more disruptive when they are trying to deal with dyslexia so they are more likely to be noticed by teachers and given the right help. Girls have been shown to be better at developing coping mechanisms so their symptoms may go unnoticed for years before they receive the proper specialist tuition.
20 years ago, Patience Thomson had a chance to be involved in founding Barrington Stoke, to produce quality books for dyslexic readers. Their unique approach would be that dyslexic children and teenagers would be asked to act as consultant editors.
Patience Thomson says, "The quality of the story was very important to Barrington Stoke but so too was the presentation. These consultant editors chose the font, (our own special one), the size of print, (point 14), the off white paper, (kinder on the eyes), and the extra spacing between letters, words and paragraphs that made the text "settle" – their description not mine. They insisted there should be no right hand justification as this meant they did not lose their place. The consultants marked up words they could not read and ones they could not understand. They had an active and positive role when the company founded and still do today and as a consequence dyslexics can not only learn to read 'real books', but to enjoy them too."
You can find a huge range of chapter books in the Super-readable Dyslexia-friendly Books section on our sister site, LoveReading4Kids, and all are particularly suitable for struggling, reluctant or dyslexic readers. For ease they are split into age ranges; 5+, 7+, 9+ 11+ and Teen. In addition to an expert review, most have an extract available to download so you can decide whether it is the book for you.
For children just starting on their reading journey the Little Gems are a great next step; quality stories perfect for children aged 5-8 with a reading age of 6+ but also well suited to children aged 7-10, reading below this level, and to dyslexic or reluctant readers. Published in a gorgeous chunky format, with high-spec production including coloured endpapers and jacketed flaps, each book has high quality cream paper, the special Barrington Stoke font and illustrations on every page. You can find the Little Gem titles here.
About Barrington Stoke:
For over 20 years award-winning Barrington Stoke has been publishing super-readable books to help every child unlock a love of reading. Barrington Stoke publish accessible, enjoyable and high-quality short books for children who are dyslexic, struggling to read, or simply reluctant to sit down with a book. Each book is read before publication by struggling readers of the right age, to ensure the final book is both accessible and a terrific read. Alongside brilliant and engaging stories from the best writers, their books contain a whole host of specialist features designed to help dyslexic readers. From a design perspective, their books:
- Use a unique, dyslexia-friendly font specially created to make reading easier
- Have accessible layouts and spacing to stop the page from becoming overcrowded
- Are made with heavier paper with a gentle tint to help reduce visual stresses.
Barrington Stoke books are expertly edited to ensure unnecessary words don't hinder comprehension while the text will still challenge the reader and their books feature lots of illustration to break up the text and keep the story moving.
The stories utilise short, sharp, unpatronising content matched to the age of the reader not their reading level.
In 2007 the company was named IPG Children's Publisher of the Year and their books have won a haul of awards including the Klaus Flugge Prize for My Name is Not Refugee, The Children's Book Award for Armistice Runner, the Scottish Teenage Book Prize for One Shot and in 2020 won the CILIP Carnegie Medal with Lark by Anthony McGowan
Click here to download a free guide from Barrington Stoke to help you help your child to love reading.
For further information on Barrington Stoke barringtonstoke.co.uk.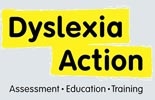 About Dyslexia Action:
Dyslexia Action is a national educational charity, which improves lives through education. Their vision is to ensure individuals with dyslexia and literacy difficulties are able to reach their potential. Dyslexia should not be a barrier to learning, employment or personal fulfilment. Dyslexia Action is the UK's leading provider of services and support for people with such difficulties, specialising in assessment, teaching and training throughout England, Scotland, Northern Ireland and Wales.
If you suspect your child might have dyslexia or would like any more information about Dyslexia Action please dyslexiaaction.org.uk
Dyslexia Action is a Registered Charity – Number: England & Wales 268502, Scotland SCO 39177