Book Details
---
Format
Paperback
---
Author
Anthony Browne
---
Publisher
Walker Books Ltd
---
Publication date
3rd September 2015
---
Author's Website
www.anthonybrownebooks....
---
ISBN
9781406360899
---
Please note:
Adobe Reader is required to view extracts - click below to get the latest version,
The Lovereading comment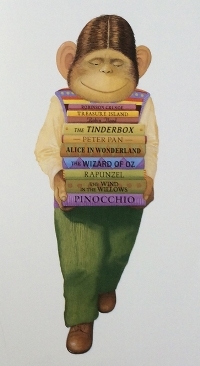 Shortlisted for the CILIP Kate Greenaway Medal 2016.
A Staff Pick of the Year 2015 - chosen by Louise Weir A stunning picture book with a story to each spread to inspire a child's own imagination into what happens next and all linked to 10 classic stories. Join Willy the gorilla as he becomes a character in each of these classic stories including to a mysterious desert island with a footprint in the sand; down a deep, dark rabbit hole full of curious objects; or perhaps on board a pirate ship, face to face with Captain Hook. Each adventure leaves a question for you the reader to continue your own adventure and perhaps guess into which classic story Willy's adventure has taken him? Willy's Stories is created by multiple-award-winning Anthony Browne and is a magical celebration of stories and the imagination.
Originally published in 2014 to coincide with the publication of the 30th anniversary edition of Willy the Wimp, Willy's Stories shows Anthony Browne at the height of his powers as both an illustrator and author.
Synopsis
Willy's Stories by Anthony Browne

From one of the most celebrated author-illustrators working today, Anthony Browne, comes a fantastical celebration of stories and the imagination. Once a week, Willy walks through an ordinary-looking set of doors and straight into an adventure - an adventure inspired by a beloved classic of children's literature, from The Wonderful Wizard of Oz to The Wind in the Willows. Where will those doors take him today: to a mysterious desert island with footprints in the sand; down a deep, dark rabbit hole full of curious objects; or perhaps on board a pirate ship, face to face with Captain Hook? Wherever he ends up, Willy's journeys begin when he walks through those inviting doors...
---
About The Author
As a child
Anthony grew up in a village called Hipperholme, in Yorkshire. He loved art and would spend hours drawing with his beloved father. He says of his father, "He was an unusual man – outwardly strong and confident, but also shy and sensitive – a bit like the gorillas I love to illustrate now. As well as drawing, he encouraged me to play a lot of sports, such as rugby and soccer and cricket. I was small for my age and I used to go to a fairly tough school – if I hadn't been good at sports, I would probably have been bullied."
As an adult
After he left school, Anthony studied graphic design and then went on to paint the insides of people's bodies for medical textbooks. He found this fascinating, but after three years found that the work was becoming repetitive ("if you've seen one stomach operation, you've seen 'em all!") and instead began designing greetings cards. This in turn led him to illustrating children's books – his book Gorilla began life as a picture on a birthday card. Anthony lives in Kent and has two grown-up children.
As an artist
Gorillas feature in many of Anthony's books. He says, "I am fascinated by them and the contrast they represent – their huge strength and gentleness. They're thought of as being very fierce creatures and they're not." Anthony's illustrations also reveal his love of the Surrealist painters, whose pictures often depict strange, dreamlike scenes (look out for all the disguised bananas hidden in Anthony's books!). When Anthony first has an idea for a picture book, he says, "it's a strange combination of story and images. Deciding what will be illustrated on the pages of a book is like deciding on the scenes of a film." Anthony has won many prizes for his work, including the Kate Greenaway Medal (twice) and the Kurt Maschler Award (three times). In 2000, he received the highest international honour for illustration, the Hans Christian Andersen Award, for his services to children's literature – the first British illustrator to win the prize since 1956. On 9 June 2009 Anthony was announced as the sixth Children's Laureate, an appointment that recognises the importance of exceptional children's writing in creating the 'readers of tomorrow.' Speaking about this latest award, Anthony says, "I hope to encourage more children to discover and love reading, but I want to focus particularly on the appreciation of picture books…. Picture books are for everybody at any age, not books to be left behind as we grow older. The best ones leave a tantalising gap between the pictures and the words, a gap that is filled by the reader's imagination, adding so much to the excitement of reading a book."
Things you didn't know about Anthony Browne
• When he was a boy he wanted to be a journalist, a cartoonist, or a boxer.
• He was once asked to present a programme on children's books, in a cage with some gorillas - but one gorilla bit him badly on the leg. It didn't put him off them, but, he says "you wouldn't catch me going into a cage with one again!"
• He grew up in a pub and when he was little, would go into the bar, stand on a table and tell stories about a character he'd made up called Big Dum Tackle.
• He wore short trousers until he was fifteen.
• He thinks the character, Willy, is based on his own childhood.
• When he was a boy, he wanted a real trumpet for his birthday, but he got a toy plastic one instead. He says his book, Gorilla, was partly based on that experience.
• He loves rugby and played as a scrum-half for eighteen years.
• His book The Tunnel was inspired by a very frightening tunnel he and his brother used to go down when they were boys.
• When he was a medical artist, he would often eat his lunch in the mortuary.


To search for more books by Anthony Browne on Lovereading - click here