LoveReading View on Weirdo
A punchy celebration of individuality
A Julia Eccleshare Pick of the Month April 2021
Award-winning writers for adults, Zadie Smith and Nick Laird have now created a perfectly crafted picture book that is simple in its telling and strong in its message. When Maud arrives as a surprise for Kit's birthday she is treated with great suspicion by the pets who are already in residence. Since she is not like them - a cat, a bird or a pug dog - they are swift to deem her to be a weirdo. Briefly, Maud tries to fit in before taking herself on a life-changing adventure in which she soon discovers that being yourself is far, far more important than fitting in. Magenta Fox's gentle illustrations are the perfect foil to this punchy celebration of individuality.
More About This Book
Zadie and Nick first discovered Magenta's work online. Upon seeing her illustration of a guinea pig wearing a judo suit, they were inspired to write a story – a story that would then become Weirdo.
'We're delighted to be able to work with Magenta, whose illustrations we adore. Of all the books we've published, this is our favourite. Three cheers for all the weirdos!' - Zadie Smith and Nick Laird
---------------------------------------------------
Julia Eccleshare's Picks for April 2021
Burning Sunlight by Anthea Simmons
Shades of Scarlet by Anne Fine
The Day the Screens Went Blank by Danny Wallace & Gemma Correll
Fourteen Wolves by Catherine Barr & Jenni Desmond
Weirdo by Zadie Smith, Nick Laird & Magenta Fox
Ruffles and the Red, Red Coat by David Melling
The Duck Who Didn't Like Water by Steve Small
An Alien in the Jam Factory by Chrissie Sains
Weirdo Synopsis
Meet Maud.
Maud is many things:
She's a guinea pig who wears a judo suit.
She's a birthday present for Kit.
And some think she might be a bit of a weirdo . . .
. . . Because Kit's other pets have never met anyone quite like her before. Why can't Maud be just like everyone else?
But with bravery, kindness and a pinch of luck, Maud comes to learn that being yourself is the very best thing you can be.
When Maud is thrown into a new and confusing situation, it takes brave decisions and serendipitous encounters for her to find her place and embrace her individuality. Weirdo is an endearing story about the quiet power of being different by two veteran writers, and introduces an exciting debut illustrator. Together they have created a picture book that adults and children alike will treasure.
About Zadie Smith, Nick Laird
Zadie Smith is the author of the novels White Teeth, The Autograph Man, On Beauty, NW and Swing Time, as well as two collections of essays, Changing My Mind and Feel Free, and a collection of short stories, Grand Union. White Teeth won multiple awards, including the James Tait Black Memorial Prize, the Whitbread First Novel Award and the Guardian First Book Award. On Beauty was shortlisted for the Man Booker Prize and won the Orange Prize for Fiction, and NW was shortlisted for the Baileys Women's Prize for Fiction. Zadie Smith is currently a tenured professor of fiction at ...
More About Zadie Smith, Nick Laird
More Books By Zadie Smith, Nick Laird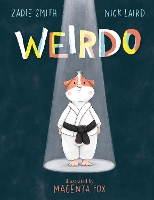 View All Books By Zadie Smith, Nick Laird